Current & Upcoming IPOs
| | | | | | |
| --- | --- | --- | --- | --- | --- |
| IPO Name | Min. Investment | Price Range | Min. Qty. | Date | Status |
| Go Airlines India Limited | - | - | - | - | To be announced |
| Ixigo - Le Travenues Technology Limited | - | - | - | - | To be announced |
| OYO - Oravel Stays Limited | - | - | - | - | To be announced |
| Tracxn Technologies Limited | - | - | - | - | To be announced |
| Mobikwik - One Mobikwik Systems Limited | - | - | - | - | To be announced |
| Seven Island Shipping Ltd | - | - | - | - | To be announced |
| Skanray Technologies Limited | - | - | - | - | To be announced |
| Fincare Small Finance Bank Limited | - | - | - | - | To be announced |
| Arohan Financial Services Limited | - | - | - | - | To be announced |
| Aadhar Housing Finance Limited | - | - | - | - | To be announced |
| Medi Assist Healthcare Services Limited | - | - | - | - | To be announced |
| Puranik Builders Limited | - | - | - | - | To be announced |
| Montecarlo Limited | - | - | - | - | To be announced |
| Jana Small Finance Bank Limited | - | - | - | - | To be announced |
| Utkarsh Small Finance Bank Limited | - | - | - | - | To be announced |
| Chemspec Chemicals Limited | - | - | - | - | To be announced |
| Penna Cement Industries Limited | - | - | - | - | To be announced |
Closed IPOs
| | | | | | |
| --- | --- | --- | --- | --- | --- |
| IPO Name | Issue Price | Close Price | Listing Day Gains | Closed Date | Status |
| Aether Industries Limited | ₹642 | ₹704 | 20.62% | 26 May 2022 | Closed |
| eMudhra Limited | ₹256 | ₹270 | 0.74% | 24 May 2022 | Closed |
| Ethos Limited | ₹878 | ₹825 | -8.72% | 20 May 2022 | Closed |
| Paradeep Phosphates Limited | ₹42 | ₹44 | 5.00% | 19 May 2022 | Closed |
| Delhivery Limited | ₹487 | ₹495.2 | 10.11% | 13 May 2022 | Closed |
| Venus Pipes & Tubes Limited | ₹326 | ₹337.5 | 8.70% | 13 May 2022 | Closed |
| Prudent Corporate Advisory Services Limited | ₹630 | ₹612 | -10.83% | 12 May 2022 | Closed |
| Life Insurance Corporation of India | ₹949 | ₹872 | -8.01% | 9 May 2022 | Closed |
| Rainbow Children's Medicare Limited | ₹542 | ₹510 | -16.97% | 29 Apr 2022 | Closed |
| Campus Activewear Limited | ₹292 | ₹360 | 27.62% | 28 Apr 2022 | Closed |
Apply to IPOs using UPI and Paytm Money Demat easily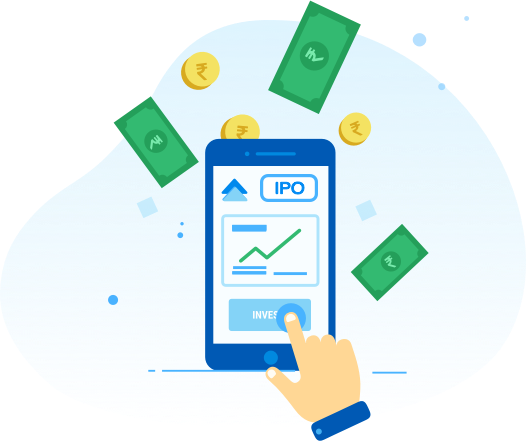 Invest in your favourite companies from their beginning in stock markets.
Apply to IPOs using UPI and Paytm Money Demat easily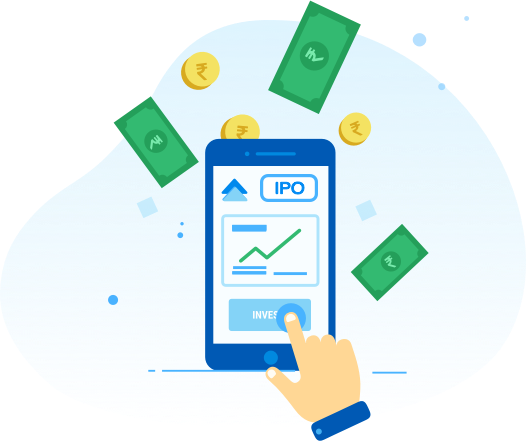 Invest in your favourite companies from their beginning in stock markets.
How to Apply for IPOs on Paytm Money
Step 1
Once KYC is done, enter your bid details (quantity, price & no. of bids) and submit UPI ID.

Step 2
Accept the "Block Funds" request on UPI app

Step 3
If allotted, final amount will be debited otherwise, it will be unblocked.

The Bidding Process
Applying for an IPO is easier than ever with Paytm Money, in just a few clicks your application is processed. You can bid for any IPO through Paytm, the bidding process is simple and hassle free. Every company has a lot size decided & you can buy in multiples of the decided lot.
If lot size is 15, then you have to bid for multiples of 15 share like 30,45,60 and so on.
The maximum subscription amount for retail investors is 2 lakh.
Any bid can be at a desired price or cut off price given by the company.


How to bid on App
Enter the number of shares you wish to buy, as per the lot size.
You can apply at the cut off price set by the company or bid for a desired amount within the price band.
Maximum three bids will be accepted.
You then need to enter the UPI ID on Paytm Money's IPO application form.


Investing using UPI
You will immediately get a fund block request on your UPI for the submitted IPO application.
The funds will be blocked in your bank account until allotment when it is debited.
The limit for IPO application is Rs 2 lakh per transaction on UPI.
On allotment of the shares, the money will be automatically debited.
If the share aren't allotted the blocked funds will reflect back into your account. Frequently Asked Questions
What is an IPO?
The primary reason companies go public is to raise capital. When a private company decides to raise equity capital by offering its shares for sale to the public for the first time, it is known as a "going public" and the entire process of offering shares is called a "public offer". To read more about IPOs Click Here.

What are the merits of investing in IPO?
If you invest in an IPO you get to be a part of the growth story of that company because every company has Capex plans from proceedings of the IPO hence the share price is likely to gain in the future given the growth prospects.
Apart from that, the valuation you get at the IPO is determined by merchant bankers after looking at the company's overall performance, but once the shares are listed the market determines the price of shares.

How do I invest in an IPO?
Investing in an IPO via UPI is easy and hassle-free. You just have to complete your KYC process, create a Demat account if not created already and fill in the application for IPO i.e enter the lot size, bid amount, block funds in your bank account through UPI, and submit the application.

What documents do I need for an IPO application?
To apply for an IPO, you need to open a Demat account by submitting your Aadhar Card, Pan Card for KYC and once your Demat account is in place you can apply for an IPO with just a UPI Id.

What is the retail limit to apply for an IPO?
If you are applying through retail quota, then the total limit is Rs. 2 lakhs, that means including all the three bids your amount that is frozen through UPI for IPO should not exceed Rs. 2 lakh. The blocked amount is the highest of the three bids.
For Instance, if your three bids for IPO range of Rs. 295-305 are
Bid 1. 10 shares at Rs. 302
Bid 2. 150 shares at Rs. 301
Bid 3. 50 shares at the cut-off
Then the blocked amount will be highest of 10*302 = 3020 ,150*301 = 45,150, 50*305 = 15250 which is Rs. 45,150, and this blocked amount should not exceed Rs. 2 lakhs.

Can I apply for an IPO through Paytm Money?
Yes, you can apply for an IPO through the Paytm Money app. All you have to do is complete your KYC, submit bids and block your funds (to be used for payment in case you get the allotment) by entering your UPI Id.

Will I need a Demat account of Paytm Money to invest in IPO?
Yes, if you are applying for an IPO through Paytm Money you will need a Demat account with us.

What does Paytm Money charge if I apply for an IPO?
Paytm Money does not charge any brokerage or additional fees for IPOs. With no hidden charges in the app our pricing is fully transperent.

Where do I search for upcoming IPOs?
On the IPO dashboard you will find the list of upcoming and past IPO, where you can also find more details like expected open date, price band if announced and so on.

How can I look at past IPOs performance?
Once you go on the IPO dashboard on Paytm Money app, you can click on any past IPO and look at the performance like listing day gains, cut-off price, subscription data and so on.
For instance, if you want to look at Route Mobile's performance, you can scroll down and search for Route Moblie's IPO and click on it to find all the data you need for analysis.

How to place bids for IPO?
Once you go on the IPO dashboard on Once an IPO opens for bidding, you can enter all the details and place three bis for one application.
For instance, if the range of an IPO of Rs. 295-305, then you can place three bids between this price range or cut-off price which is decided later at the time of allotment.
Bid 1 - 50 shares at Rs. 297
Bid 2 - 70 shares at cut off
Bid 3 - 100 shares at Rs. 300
At the time of allotment, in the case the issue price is above Rs. 300 then you will be eligible for only bid 2, and if the issue price is Rs. 300, you will get allotment for Bid 2 and Bid 3. In case when the issue price is Rs 295 then you will be eligible for allotment of all three bids. Click Here. to Read About How to Apply For IPOs.

What is a Cut Off Price
The actual discovered issue price can be any price in the price band or any price above the floor price and hence the issue price is coined as the "Cut off price". To read More About Cut Off Price Click Here.

Can I place multiple bids for an IPO?
Yes, you can place multiple bids but a maximum of three bids are allowed through one Demat account.
For example: If the IPO price range is Rs. 95-105, then you can place three bids for any amount varying from Rs. 95-105.

How will I know if my application has been submitted at the exchange successfully?
When you complete the process and accept the mandate through UPI app, the status of your application will change from "Application Pending" to "Application Successful", that's when your bid will be submitted to the exchange successfully.